Free Insured Shipping Worldwide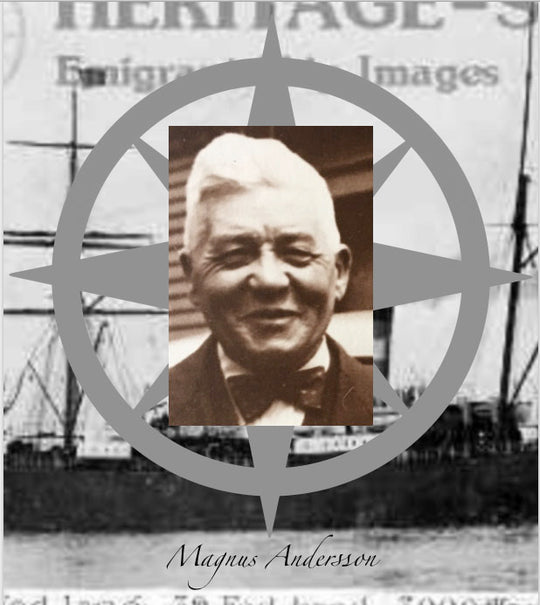 This family story begins in Sweden.
I had been researching the story of my paternal grandfather, Magnus Andersson, who had come to America from Sweden as a boy in 1892.  I came across many challenges in locating documents for my Swedish and Danish relatives, as I continued research through Ancestry and MyHeritage, I found that Magnus was born on March 8, 1875 and had 7 brothers and 2 sisters on a farm in Valby, Sweden.
Ancestry Discoveries:
I discovered 2 cousin connections in Sweden, one through Ancestry and another through MyHeritage, and they did not know each other!  Both generously researched and shared priceless documents that I had been unable to find, including:
Passage tickets, documents of birth, baptism, and immigration back to 1740.

Magnus' Story: Getting to know someone:

Some of these documents were keys to discovering when and how my Grandfather arrived in America, further connecting me to photos I have of my Grandpa, Magnus Andersson.  My newfound cousins in Sweden were able to share documents and historical records with me, and I was able to share my memories and photos with them-photos that they had never seen before. One was of Magnus as a young man of 16, as he appears here, soon after he got off the ship in 1892!   
I found that Magnus joined his elder brother, Gustafson, in Jamestown, NY.  Gustof immigrated in 1890.  They found work and established their lives in Jamestown.  Another  brother, Axel found them later in 1934.  Jamestown was a large, thriving Swedish community, which included an old friend from Sweden, Carl August Jensen.  Carl had a Danish wife, Emilie Agertoft (later Ameilia). Emilie asked young Magnus to go to Baltimore, MD to pick up her younger sister, Anna, who had just arrived from Denmark.  On the return trip, Magnus asked Anna to marry him. This would be my grandmother, Anna!
We may have discovered that my cousin's great grandfather started the family grocery in Jamestown, NY with his brother, and my grandfather, Magnus.
I knew Magnus as the man my Swedish cousins heard stories about. After sending some photos of Grandpa Andersson, one of my newly found Swedish cousins shared with me, "You really don't know a person until you can find someone who actually knew them." 
Cousins
After sharing research through the messaging feature of 23 and Me and MyHeritage, I connected the two cousins in Sweden (with their permission). One related farther back in the 1800's to Magnus was very pleased to be introduced to another cousin.  They both reside in Sweden, doing family research.  We will now be able to continue sharing family stories, photos and documents.
I now have documents, passage tickets, stories of where the family farm was located, and shared my cousin's photos of the land as it is now. If my children and grandchildren ever want to visit Sweden and learn more about their heritage, they can visit the exact spot where Magnus farmed as a boy…and if they are lucky, meet a few of the over 100 cousins that are in the area today!